These photos show me outside Time Warner's main offices on Sixth Avenue when the cable company changed channels from J to 35 and tried to scramble mine and other programs. We picketed outside the offices until the issue was settled by a Supreme Court ruling in 1996 that kept my shows unscrambled. Thanks to Osvaldo Perez for the pictures.
Here I looked very official as a judge in the 1991 Miss Fire Island contest.
This photo was taken in Las Vegas in the early 90's @ the free speech booth.
This is a picture of Chip Duckett, Me, Michael Musto and Joey Stephano taken in the club MARS - circa late 1980s.
Here I am at a Village Voice event on the boat THE QUEEN OF HEARTS ready to sail from the South Street Seaport.
PICTURE BLASTS FROM THE PAST - 1990s at the LIMELIGHT
With thanks to Tina
Photo by ©Tina Paul/fifibear
Photo by ©Tina Paul/fifibear
Photo by ©Tina Paul/fifibear
These pics are from the party at The Roxy in Manhattan for release of the CD "Latin Songs to Make Love To".
'Lie Back and Get Comfortable - Robin Byrd Presents Latin Music to Make Love To.' The upper right picture is of John Blair and I while others are fans.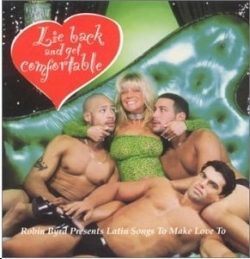 My bustiers are almost as popular as my crochetted bikinis that I used on the cable show. The bustiers were made for me along with matching belts and boot straps by Michael Morrison of Beverly Hills California.
Here my nice soft crochetted bikini was replaced by a more outlandish costume when I served as a judge at the 1990 Miss Fire Island (drag) contest.
This is a Valentine promotion photo shot on the set of my Robin Byrd Show. I guess I'm a sucker for lollipops!
Here's an early shot of me on the set of my show. You may recognize the pose as the source for a line drawing that has been used in advertising, a t-shirt and business stationery. I recently made a new batch of the T-shirts for fans.
Long-standing Byrdwatchers will remember that one of my shows back in the 80's was all about fitness - including weight training and tips on nutrition. I was really serious about it. It was called "Modern Woman." In those days I regularly visited a gym to keep in shape. While I was there I met many of my future muscle-bound male guests that trained there too.
One of my first celebrity guests on the live show was Sandra Bernhard. Here we mug for the camera after completing a show.
World-famous photographer Richard Avedon created over thirty portraits of powerful and famous New Yorkers for The New Yorker magazine's Special New York Issue in February of 1999. Personalities like philanthropist Brook Astor, architect Philip Johnson, columnist Liz Smith and jazz musician Ornette Coleman were some of Avedon's subjects. I was honored to be in a full-page photo with Times Square in the background and me standing on a pedestal marked "Byrd Square." Look in the "Press Clippings" section to see what other famous New Yorker was on the facing page to this photo.
I was one of the subjects in a famous series of celebrity portraits called "Hidden Identities" created by photographer Marcus Leatherdale. The title of the series was based on the fact that the subjects hid their faces in some way. "Hidden Identities" was one of the founding monthly features in magazine called "Details" of the 1980's. Also in this series were Jodie Foster, Peter Allen and Keith Haring.
Here I am with Chi Chi La Rue and Tom Weise at the Jan 2003 Adult Entertainment Expo in Las Vegas.
John Epperson (aka Lypsinka) is with me (notice my white fingernails), diva divine Brenda Bergman, and the late great Page.
I hosted several events during Gay Pride Week 2003 in New York. One was a frank discussion titled "Sex in the City" that featured a panel of academics, activists and physicians who explored the meaning LGBT sexual culture and health in New York today. This photo was used to promote the event. It was photographed in Central Park by Aron Norman.
Fire Island residents and visitors will recognize this as the summer me. Painter Sal Monetti captured the relaxation I feel when I'm out on the island. The painting is called "Mother Nature's Love Child - 2001." It's oil on canvas and has been shown in several exhibitions around New York City.