ROBIN DOES CAMEO IN BOWEN YANG'S FILM "FIRE ISLAND" TO DELIGHT OF FANS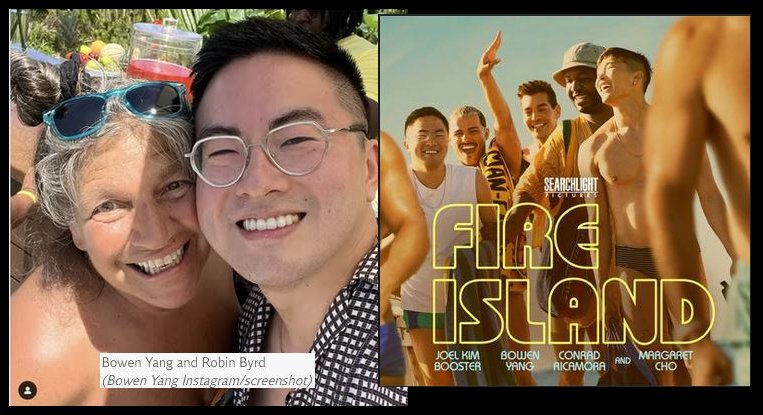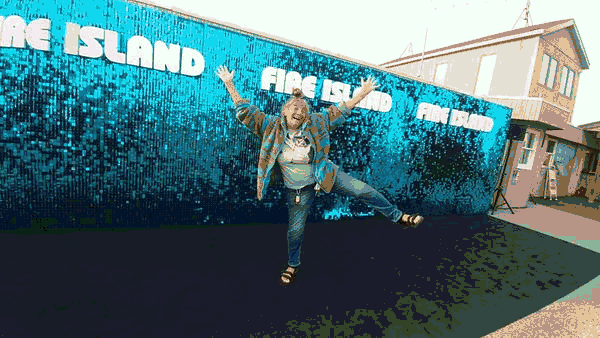 Robin jumping for joy in the success of the "Fire Island" film.
ROBIN'S CAMEO APPEARANCE IN
"OH HELLO! ON BROADWAY - 24 SEPT 2016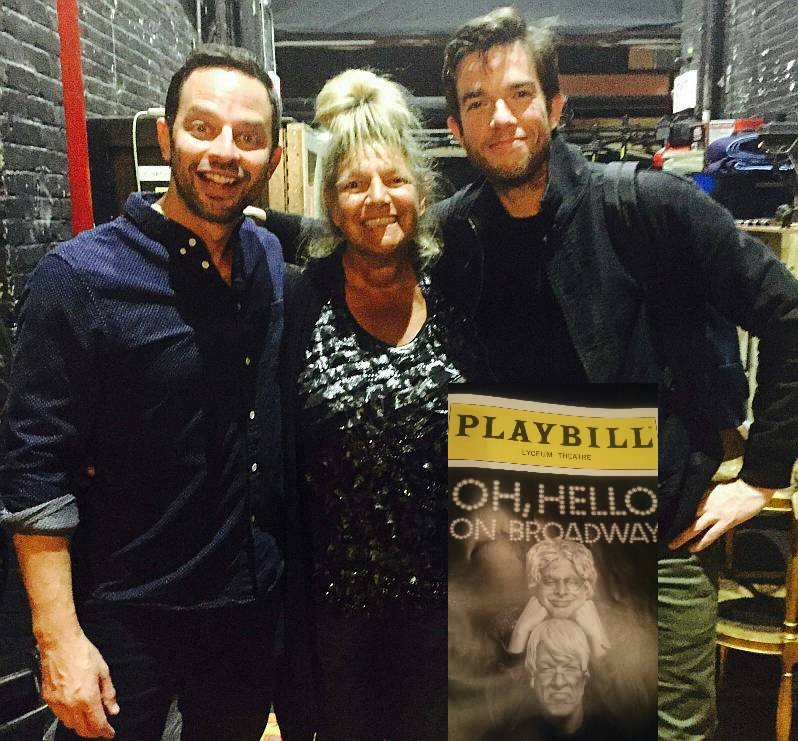 Nick Kroll and John Mulaney with Robin back stage. Now in previews, the show opens Oct. 10 at the Lyceum Theater. The limited run is currently set to end Jan. 8.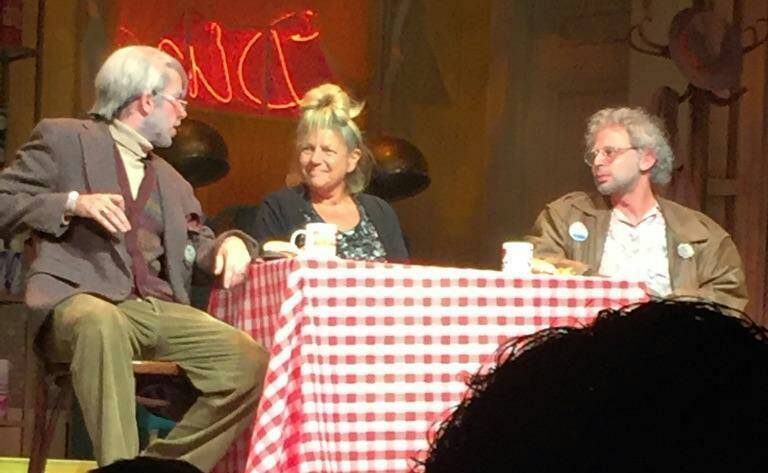 Robin on stage in the "Too Much Tuna" skit with Nick Kroll and John Mulaney.
MICHAEL MUSTO'S SOIREE
CELEBRATES FASHION WEEK
WITH HIS FRIENDS
AT SOHO GRAND CLUB ROOM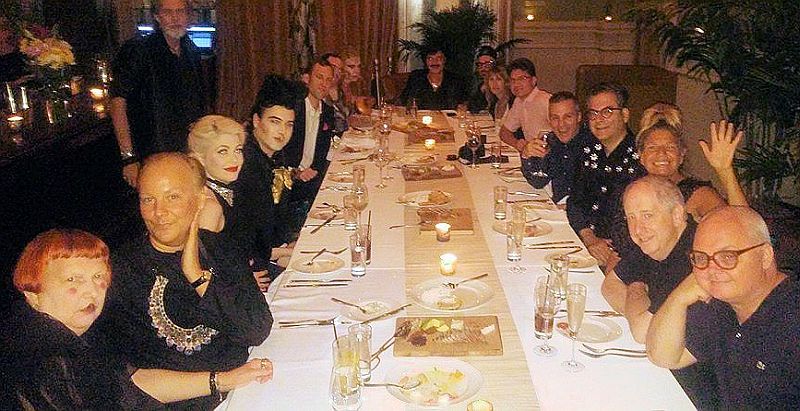 Robin with Kayvon Zand II, Christian Svoboda, Anna Zand, Kayvon Zand, Kayvon Zand III, Brian Christopher Cummings, Kenny Kenny, Randy Jones, Frankie Frankie C, Michael Musto and Mickey Boardman at Soho Grand Hotel.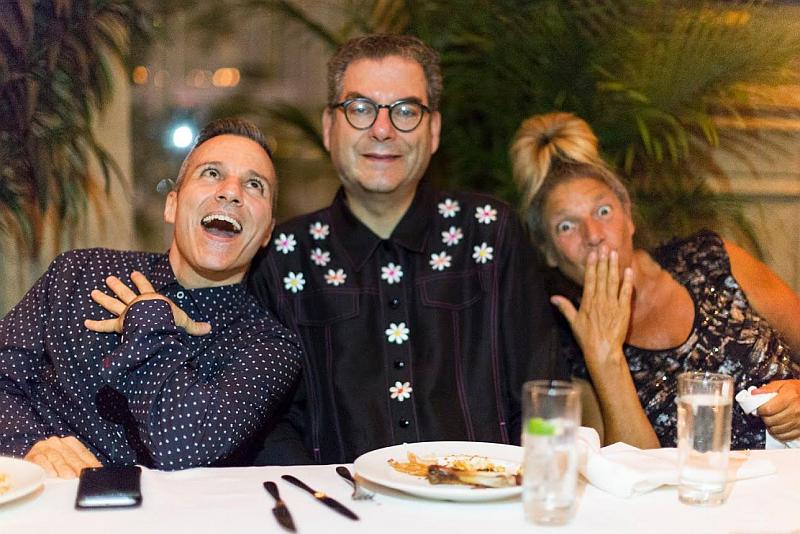 Frankie Frankie C, Micheal Musto and Robin Byrd.
WEEK TWO OF
"THE ROBIN BYRD SHOW LIVE"
ENJOYED BY A PACKED HOUSE
AT THE CUTTING ROOM.
Robin interviews her guests before "Bang My Box" concludes the evening.
ROBIN NAMED 'ICON OF THE YEAR' BY
THE 38th ANNUAL BARTENDERS BALL AT
THE COPACABANA.
Left to Right: Kathy, Tree, Robin, Johny Pool, and China.
JUNE PENTHOUSE PET ALEXIS FORD
BIRTHDAY PARTY
Ricks Cabaret, NYC - May 10, 2012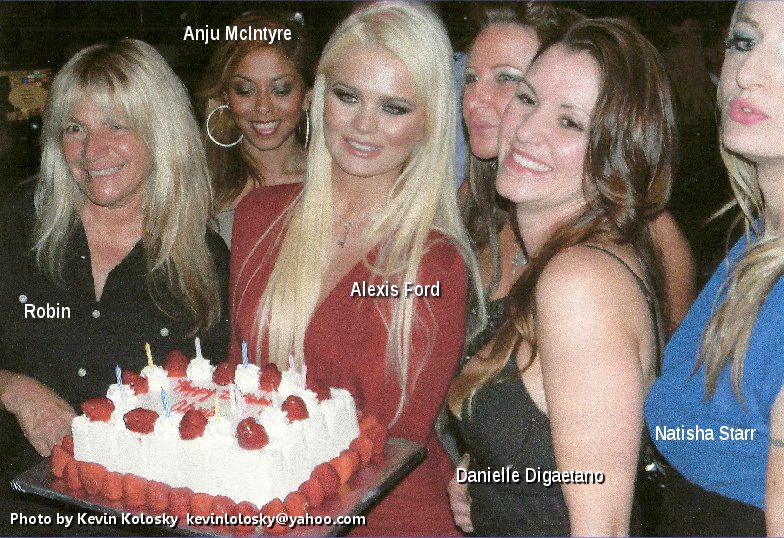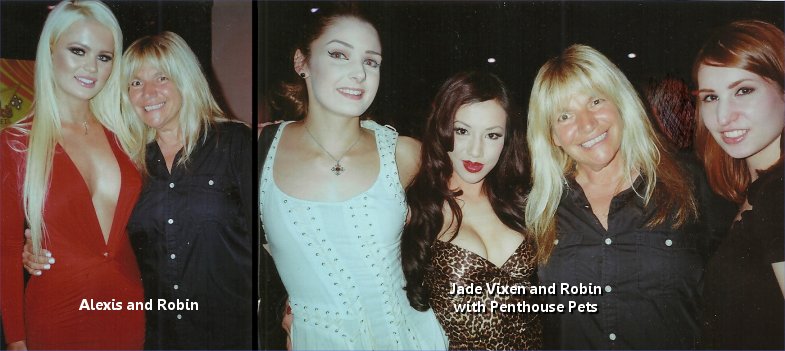 ROBIN APPEARS ON BRAVO CHANNEL
Robin played "celebrity bartender" on Bravo's "Watch What Happens LIVE" on March 27, 2012.
Left to Right: Robin, Clay Aiken, Jenna Jameson and host Andy Cohen.
MICHAEL MUSTO PARTY AT THE COPA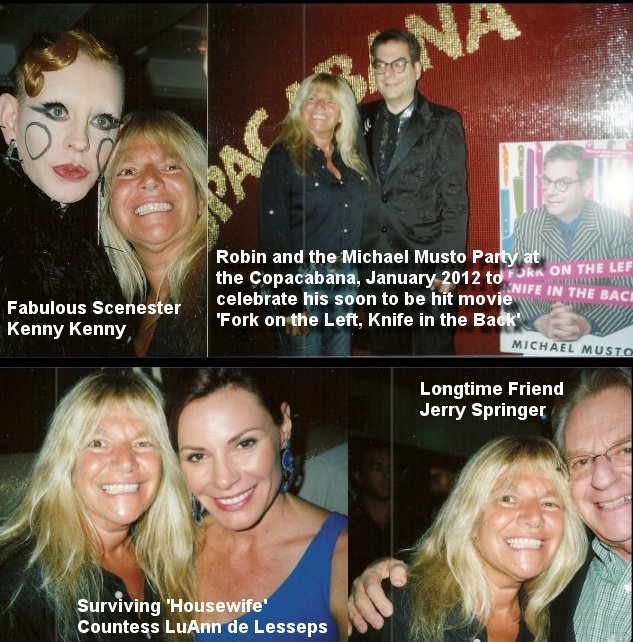 'MANHATTAN MADAM" KRISTIN DAVIS
BIRTHDAY PARTY - December 2011
ROBIN BYRD T-SHIRT PARTY
ROBIN AT LATOYA JACKSON'S book release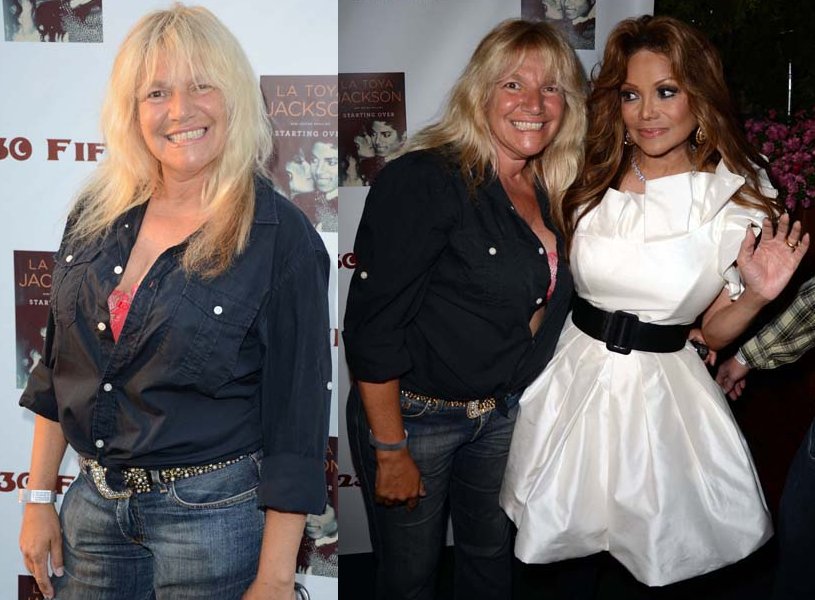 ROBIN AT 2011 HOOKIE AWARDS
FIGURE SKATER JOHNNY WEIR BOOK PARTY
Three-time US National Champion figure skater Johnny Weir celebrates the publishing of book "Welcome To My World" at The Roof Garden in New York on January 11, 2011.
BIRTHDAY PARTY FOR NIKKI BENZ
2011 PENTHOUSE PET OF THE YEAR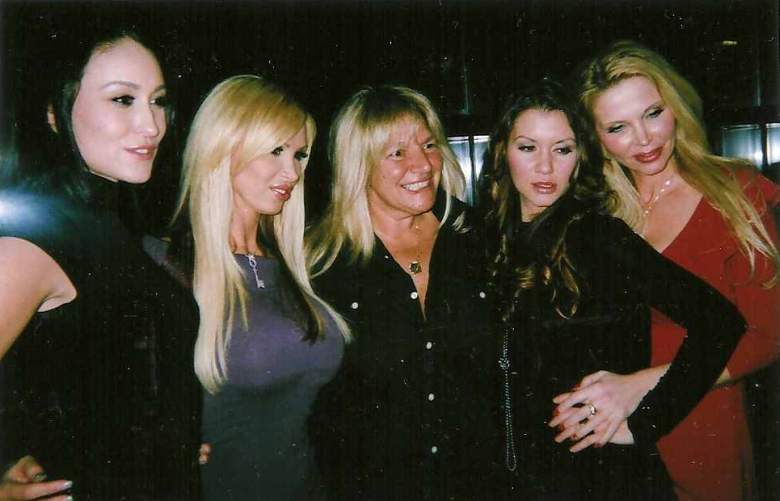 At the Sky Room in New York left to right:
Ryan Keely, Nikki Benz, Robin, Jennifer Avelon (2008 Pet), Dr Victoria Zdrok, PhD (2004 Pet)
HOLIDAY PARTY AT 'THE COMIC STRIP"
NYC COMEDY CLUB - December 24 2010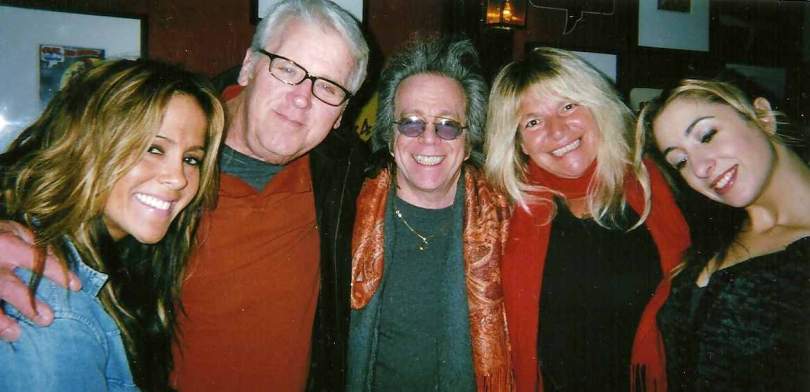 Left to Right: Fancy Perrine, actress, Richie Tienken, founder of 'The Comic Strip', Jeff Gurian, comedy writer, Robin, Lauren Francesca, Webisode star.
"ANDY WARHOL - FINAL YEARS" EXHIBITION
RECEPTION AT CHELSEA GALLERY
Left Photo: Warhol superstar Penny Arcade with Robin and Derek Story "Diva" photographer. Penny Arcade was featured in Paul Morrissey and Andy Warhol's 1971 film "Women in Revolt."
Right Photo: Robin, Penny Arcade and Jazz Musician Kenny G.
CHARITY AUCTION FOR "BEAUTY CARES"
TO HELP BREAK THE CYCLE OF DOMESTIC VIOLENCE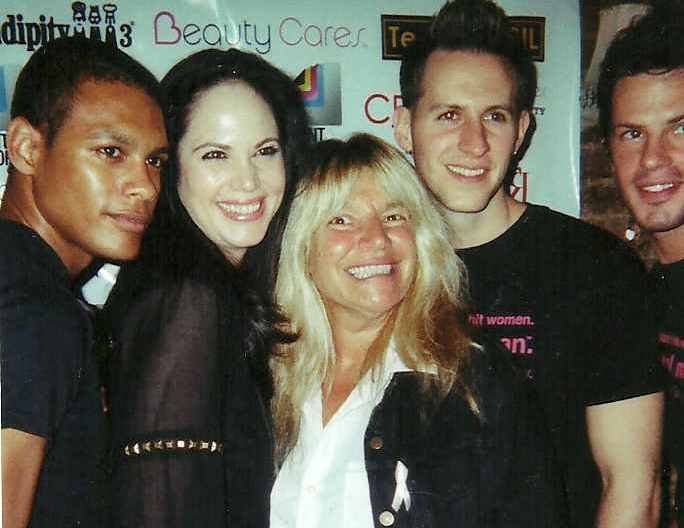 Robin attended "The End of the Wifebeater" charity auction at Haven in SoHo where guests bid on T-shirts designed by celebrities Kim Kardashian, Charles Busch, Christine Ebersole and many others. Proceeds went to benefit the nonprofit "Beauty Cares."
FORMER MADAM and NEW YORK
GUBERNATORIL CANDIDATE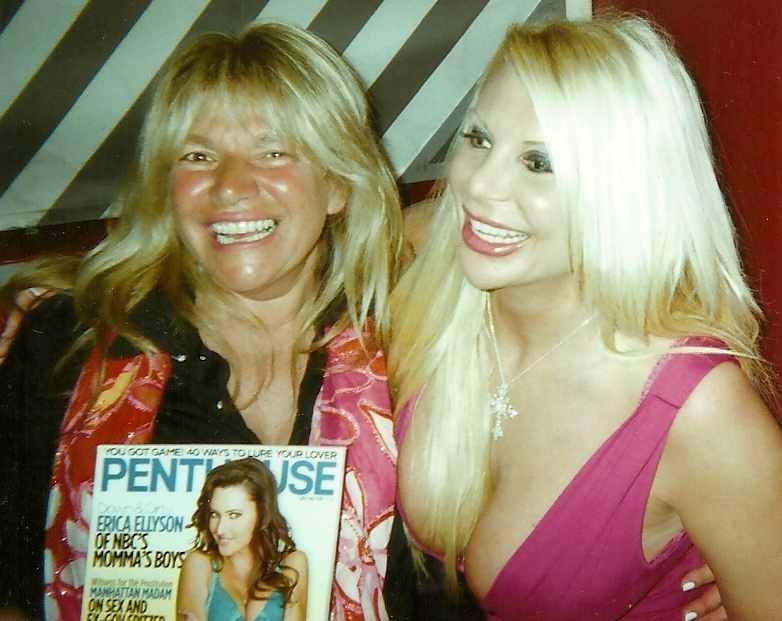 Robin meets Kristin Davis in March 2010 during her New York gubernatorial campaign.
"FLORENT" WORLD PREMIERE
Robin meets creators of "Florent: Queen of the Meat Market" at premiere in New York. Robin has a cameo in the film.
Director, David Sigal, Robin and Restauranteur, Florent Morellet. Robin and Simon Doonan, Creative Director of Barney's NYC.
ROBIN MEETS BEEKMAN BOYS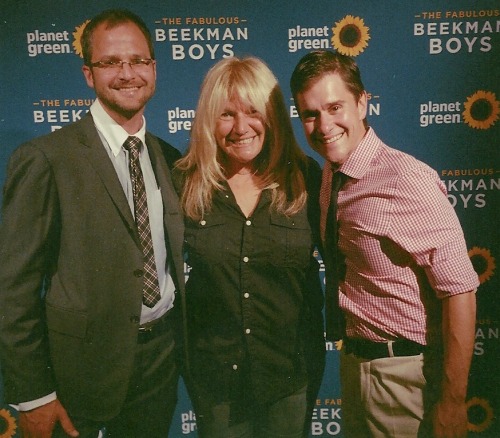 Discovery's Planet Green launches the new primetime series "The Fabulous Beekman Boys" Josh, Robin and Brent on 2 June 2010 in New York.
PARTY FOR TORI SPELLING
at Highbar, NYC on 16 June 2010.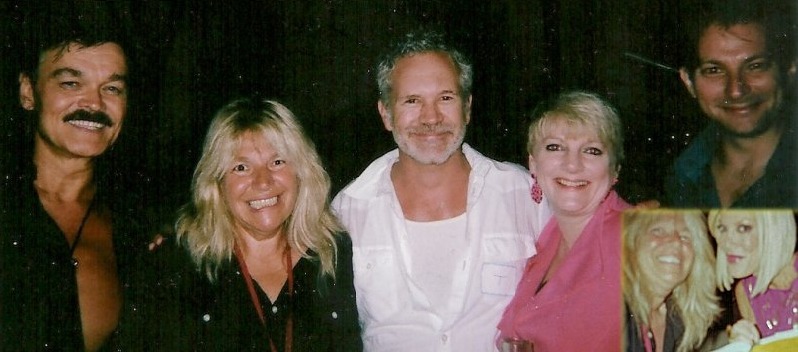 Village People Cowboy, Randy Jones, Robin, Gerald McCullough (Bobby Dawson on "CSI") Alison Arngrim (Nellie Oleson on "Little House on the Prarie"), Ben Widdecombe (N.Y. Tabloid Gossip Guru). INSERT: Robin and Tori Spelling.
ROBIN AT HOOKIES
2010 International Escort Awards, 19 March, New York City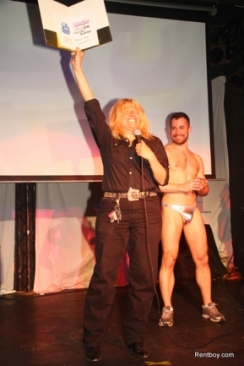 Robin presenting award for BEST TOP. Raven O, former Cirque Du Soleil star, Drag Queen, Sherry Vine, Porn Star Mike Dreyden

Robin & Mike Dreyden on the Red Carpet interviewing contestants before the awards ceremonies.
ROBIN ATTENDS MICHAEL MUSTO'S ANNIVERSARY PARTY
Comedian Joan Rivers and actor Michael Urie from "Ugly Betty" hosted a celebration of Michael Musto's 25 years as a columnist at The Village Voice.
ROBIN AT 2009 HUSTLABALL
11 Oct 2009
1. Angel Benton, Robin and Chi Chi LaRue at the HUSTLA BALL sponsored by RENTBOY.COM.
2. Robin and Angel Benton served as Red Carpet hosts at the HustlaBall.
3. Robin and Angel checks the "assets" of a guest at the Hustlaball.
FIRE ISLAND DANCE FESTIVAL - July 18-19 2009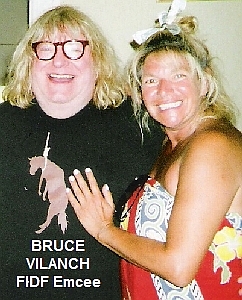 Backstage at the FIDF, the King of Quip - Bruce Vilanch and the Queen of Quip had everyone rolling in laughter. Bruce insured Robin that he was 'hung like a horse'..!
HX MAGAZINE AWARDS - 22 June 2009
ROBIN and TORI SPELLING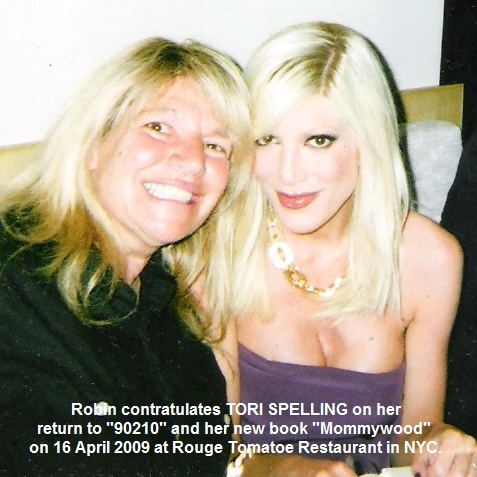 ROBIN'S SNAPSHOTS FROM ALLEN ROSKOFF'S CHRISTMAS PARTY
ROBIN CO-CELEBRITY HOST OF
LEAGUE OF HUMANE VOTERS 7th ANNIVERSARY GALA
More than 300 people came out to celebrate the League of Humane Voters of New York City's 7th Anniversary Gala on November 15, 2008. Guests included Emmy Award-winner Kristen Johnston, artist Peter Max, DJ Princess Superstar, Council Member Gale Brewer and Assembly Member Brian Kavanagh. New York's Senior U.S. Senator, Chuck Schumer spoke at the gala.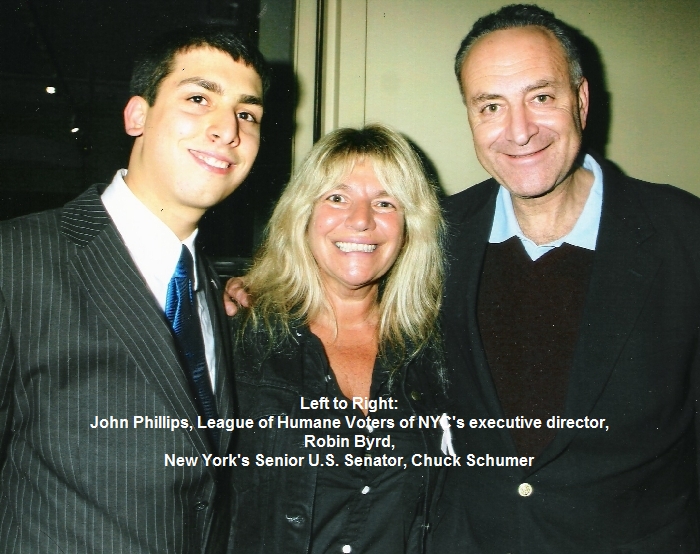 ROBIN visits UNCLE CHARLIE'S BAR and HX MAGAZINE MIXER
Rob, HX Magazine Founder Matthew Bank and Robin.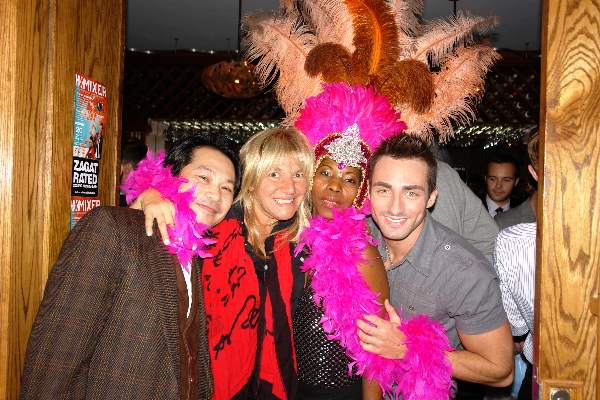 Michael Ng (Uncle Charlie's), Robin, Cora and Scott Nevins (host, radio/tv personality).
A BLOG BYRD DROPPING:
From THE CITY OF DIS Robin gets recognition of a term she created on her show.
THE CITY OF DIS BLOG, 3 July 2008
TRISEXUAL - (sometimes trysexual) is either an extension of, or a pun on bisexual. In its more serious usage, it indicates an interest in transgender persons in addition to bi-sexual men and women. In its more humorous usage, it refers to someone who will try any sexual experience. It is used in the song "La Vie Boheme" in the Broadway musical Rent. The term was coined by porn actress Robin Byrd.[7]
ROBIN and CANDACE - QUEENS OF NEW YORK CITY SEX
"Sex and the City" author Candace Bushnell met "sex IN the city" queen Robin Byrd at a party celebrating Brian Antoni's new book about sex in another city - Miami.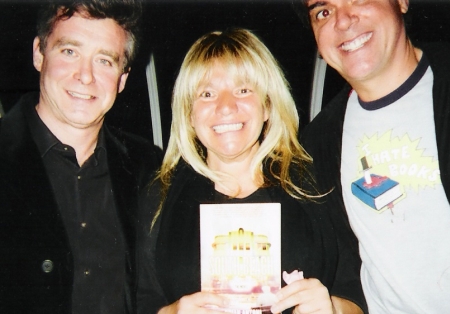 Robin hold's Brian Antoni's book "South Beach: The Novel" while flanked by writer Jay McInerney and Brian.
OM TAKES ROBIN TO BIDEAWEE BALL: FOR THE LOVE OF PETS
Robin and her escort OM along with many celebrities attended a ball held by the BideAWee animal rescue organization to raise funds for their many programs.
ROBIN CELEBRATES VALENTINE'S DAY AT KISS & FLY IN NYC
Lots of red and lots of skin on Valentine's Day as Robin is flanked by Jun Nakayama on the left and Amanda Lepore on the right.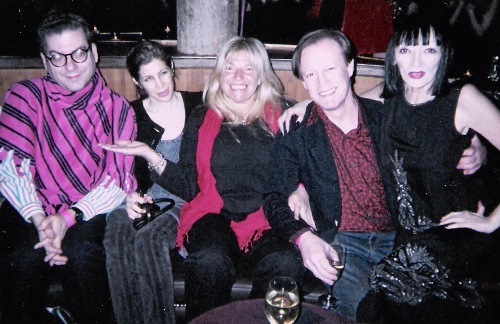 From left to right: Michael Musto, Susan Anton, Robin Byrd, Patrick McMullan and Larissa.
ROBIN AT "THREESOMES" BOOK OPENING
Robin attended the launch of "THREESOMES (For Couples Who Want To Know More)" by LAINIE SPEISER at STEVE WALTER'S Cutting Room. Speiser also doubles as the PR-chief at Penthouse Magazine so several of the penthouse pets also attended the opening.
Left: Lainie Speiser with Steve Walter and Robin
Our thanks to www.timessquaregossip.com for the photo.
ROBIN AT GAY LIFE EXPO 2007
The Gay Life Expo was back in town at the Javits Center - bigger and better than ever. Like a magnet, the HX Boys hovered around Robin for a picture with the magazine's latest edition in hand of course.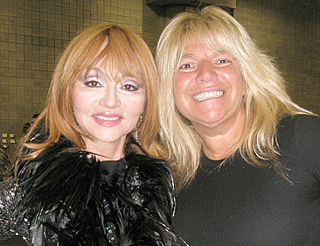 Entertainment at the Expo included "The Love Goddess" herself, Judy Tenuta and her hilarous act. And of course, the two goddesses in their respective areas just had to pose together.
ROBIN at LANCE BASS' BOOK PARTY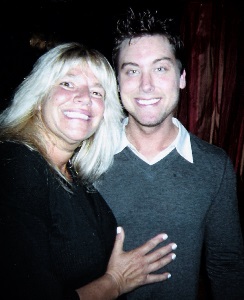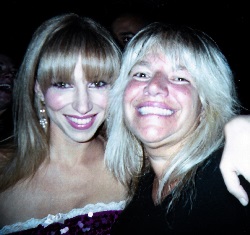 Robin attended a swank little party for the release of ex-*NSYNC member Lance Bass' new book, "Out of Sync," at Azza. Deborah Gibson poses with Robin.
ROBIN VISITS THE GAY EROTIC EXPO IN NEW YORK
Is Robin asking Torez to cough for a medical checkup or just doing what comes naturally ????

Torez was a model at the HX booth where Expo visitors could get their picture taken with him.
ROBIN INTERVIEWS ARCHITECT SCOTT BROMLEY
IN DESIRE! - FIRE ISLAND PINES PARTY COMMUNITY JOURNAL
Photo from the magazine section of Robin, Scott and friend.
BACK STAGE AT HX 2007 AWARDS
WHERE ARRON TANNER WON FOR MEN'S NIGHT @SPLASH.
GREG JONES,AARON TANNER,ROBIN BYRD and MICHAEL MUSTO
- Robin and Michael were co-presenters of this award.
ROBIN MAKES GUEST APPEARANCE
AT "MY FIRST TIME" SHOW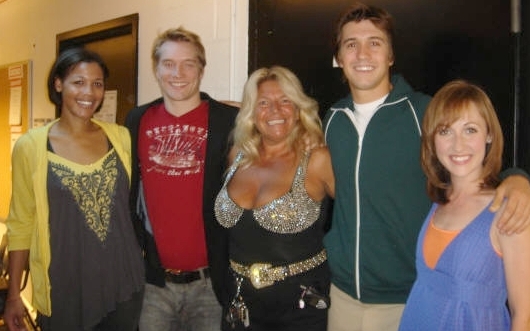 Robin was a guest on stage at a new play in the style of The Vagina Monologues featuring four actors talking about first sexual experiences, written by real people. The play is based on a website created in 1998 that allowed people to anonymously share their own true stories about their 'First Time'. Over 40,000 stories poured in from around the globe that were silly, sweet, absurd, funny, heterosexual, homosexual, awkward, shy, sexy and everything in between. These stories and the unique characters in them are all brought to life in "My First Time." A portion of the proceeds from My First Time are donated to www.SexEtc.org, part of the Teen-to-Teen Sexuality Education Project developed by Answer, a leading national organization dedicated to providing and promoting comprehensive sexuality education. Watch a video of Robin on-stage in the Home Movie section of this web page.
ROBIN INTERVIEWER FOR HERE! TV PODCASTS
Robin served as interviewer at the HERE! TV Gay TV Channel booth during the recent LGBT Expo in New York. Here she interviews drag queen and party hostess Mistress Formica. Both video and audio podcasts recorded during the Expo will be available at the HereTV.com web pages.
"DEBBIE" ANNIVERSARY BRINGS LOTS OF WEB VISITORS
Original to be released with HDTV DVD of sequel.
The 30th anniversary of the classic porn film "Debbie Does Dallas" brought unexpected traffic to this web site when promotion of an anniversary CD reminded everyone that Robin Byrd was in the cast. Although her name was originally mis-spelled as "Robyn Byrd" on the label, Robin is one of the few cast members who has became a success in the field as an entrepreneur pioneering the production and presentation of adult entertainment on television. As Robin explains it, "It's just plain luck to have been in one of the classic porn films of all time. But I'm much more proud of the work and effort I've put into making a success of "The Robin Byrd Show" for over 25 years and still going strong."
END OF SUMMER PARTY IN THE PINES
Robin greets doorpersons Golf and Jeff at the " End of Summer " private party at the Blue Whale restaurant in Fire Island Pines.
ROBIN ON ASCENSION BEACH PARTY WEEKEND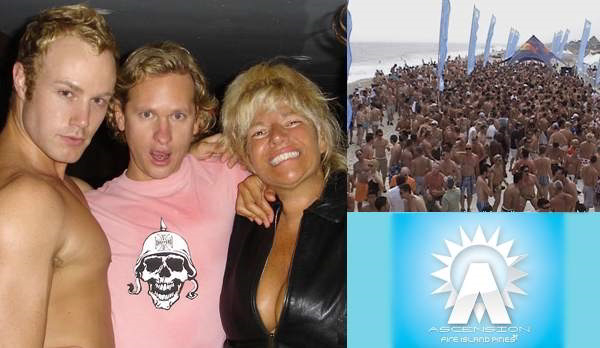 Robin poses with " Queer Eye for the Straight Guy " fashion maven Carson Kressley (center) at a house party during the "Ascension Beach Party" inaugural event in Fire Island Pines. Another guest Paul (left) demonstrates the quality of "eye candy" that covered the beach and walkways that August weekend. More info about the party at ascensionparty.com.
ROBIN AND THE BAY BAR BOYS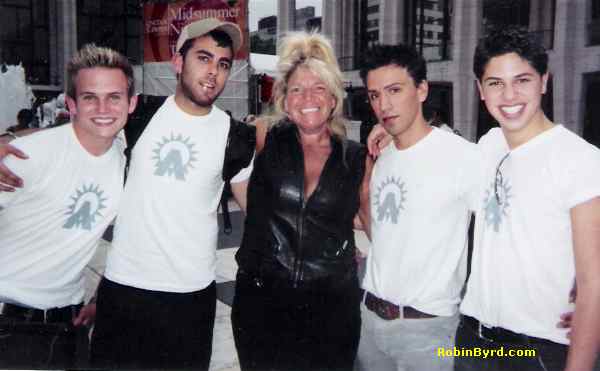 Robin posed with the very talked about hotties - The Bay Bar Boys - wearing their Fire Island Pines Ascension Party T-Shirts. The Ascension gay & lesbian daytime world-class beach party was held 20 August on Fire Island and sponsored in part by the National Gay and Lesbian Task Force and the Fire Island Pines Foundation.
ROBIN AT CELEBRITY PHOTOGRAPHER BIRTHDAY PARTY
Robin attended the birthday party of celebrity photographer Patrick McMullan. Here she is with Patrick surrounded by Playwear models and The Pump Boys.
ROBIN HOSTS THE HERE TV CHANNEL'S
NEW YORK GAY PRIDE COVERAGE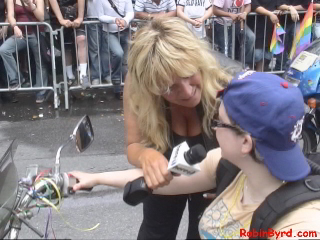 At this year's Gay Pride Parade, Robin was followed by a camera crew from HERE TV - the gay cable channel - as she interviewed parade participants and vamped for her fans along the route. Cheering on the crowds that lined the famous Christopher Street in Greenwich Village, Robin hugged and kissed both viewers and marchers while keeping her HERE microphone handy for a quick interview as her crew tried to keep up with her.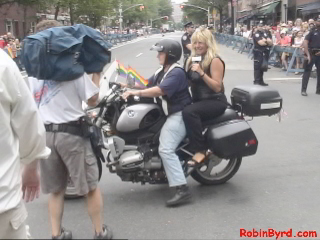 Of course, never just an observer Robin got involved marching along with some of the bands or riding a block or so on one of the bikes. While the whole East Coast was threatened by rain that day, the parade make it through without a major downpour. Watch HERE TV's full coverage of the parade with Robin Byrd in the near future. Watch some of Robin's own home videos of her parade coverage in that section of this web site.
ROBIN HOSTS "SEX IN THE CITY" FORUM AT COMMUNITY CENTER, NYC.
Robin hosted several events during Gay Pride Week 2003 in New York. One was a frank discussion titled "Sex in the City" that featured a panel of academics, activists and physicians who explored the meaning of LGBT sexual culture and health in New York today.
ROBIN A PRESENTER AT 2006 HX GAY PRIDE AWARDS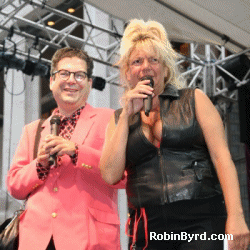 Once again Robin and Village Voice columnist Michael Musto were co-presenters at the HX magazine awards held at Lincoln Center. In photos to the left are Robin and Michael on stage and later with the winner of their cagegory "Best Gay Small Club Night" - Boys Gone Wild at Mr. Black.
The HX entertainer of the year award was presented to Sandra Bernhard.
MICHAEL LUCAS AND ROBIN CROWNED KING AND QUEEN OF NYC MARTI GRAS AT THE ROXY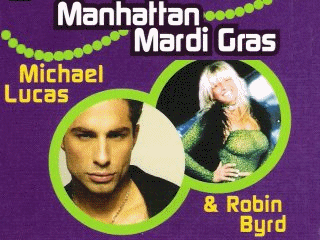 Beads were thrown, masks worn, and feather boas and inhibitions were tossed in the air as New York City partied down Louisiana style. It was an all-night party with dancing, spectacular performances, and the crowning of the King and Queen of Mardi Gras - Porn King Michael Lucas and cable TV sex goddess Robin Byrd. And there are special appearances by Madame and Joe Kovacs, Randy Jones of the Village People, the Imperial Court of New York, Daisy Spurs, The Dazzle Dancers, The Glamazons, Billionaires for Bush, Naked Boys Singing, GrooveHoops with performances by M.C. Hammer and Crystal Waters. The event benefited the New Orleans' AIDS service provider NO/AIDS Task Force, which was wiped out by Hurricane Katrina.
ROBIN INTERVIEWS PENTHOUSE PETS AND
TAPES IN THEIR DRESSING ROOM!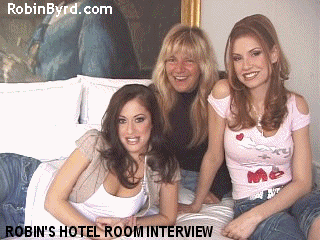 ROBIN DOESN'T FLY AS LIZZIE
From tne NEW YORK POST - Page Six Section
FROM the separated-at-birth department: Heavy-hitting lawyer Raoul Felder was entering the Gotham magazine anniversary party at Capitale on the Bowery the other night, when organizers asked him to pose on the red carpet with a blond woman as a small army of paparazzi snapped away. "I thought it was Lizzie Grubman," Felder relates. "So I said to her as the photographers were taking our picture, 'I just spoke to your father [entertainment lawyer Allen Grubman].' She replied, 'My father is dead,' and walked away. I thought it was a very tasteless joke, so I asked someone who was with me if that was really Lizzie, and they told me that it was actually Robin Byrd. They look a lot alike!" Maybe to Felder - but although the two New York blondes share a similarly chiseled jaw, Grubman, 34, has little else in common with Byrd, 48, the longtime emcee of public-access cable soft-core porn programming. Also in defense of the publicity princess' looks, Felder, 68, referred to the ceremonial red carpet as the "green" carpet, so maybe the legal eagle's eyesight is a little hazy these days. Also in attendance at the Rudy Giuliani-hosted bash were midget maven of mating Dr. Ruth Westheimer, Naomi Campbell, actor Chazz Palminteri, Damon Dash, Fran Drescher and catwalking heiress Lydia Hearst.
BLONDS NIGHT OUT!
ROBIN A PRESENTER AT
GAY PRIDE 2005 HX AWARDS AT LINCOLN CENTER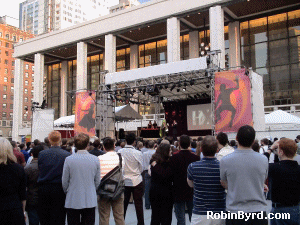 Gay Pride Week in New York City was kicked off Monday evening, June 20th on the plaza at Lincoln Center with the 2005 HX Awards. Robin Byrd was a co-presenter with Michael Musto, columnist at the Village Voice.
ROBIN IS INTERVIEWED BY BIGGAYAPPLE.COM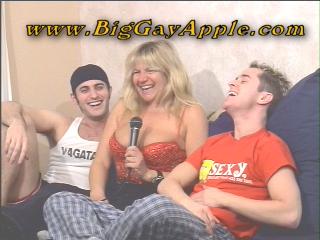 Robin was recently interviewed by Mike and Mikey, co-hosts for the Appletini.TV feature of BIGGAYAPPLE.COM for March presentation on their site. Using their favorite interview spot - a bed - Robin answered questions about her career and behind the scenes stories from The Robin Byrd Show.
Drop by www.biggayapple.com to see the whole program and many more hot interviews from Gay New York.
ROBIN IS A PRESENTER AT 2004 HX AWARDS
The 12th Annual HX Awards ceremony was held on June 21st at Manhattan's Spirit Nightclub and Robin was a co-presenter of the "Show award ".
Robin and Brini Maxwell - both icons on local public access channels - announced that "Six Feet Under" was voted best by readers of HX Magazine and visitors to their web page.
The yearly awards recognize such categories as best bar, go-go dancer, dance track, DJ, drag queen, theater production and movie.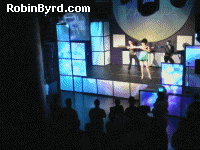 But the awards are also known for the line-up of gay community personalities who present the awards and perform; this year including Larry Kramer, Michael Lucas, Scott Nevins, Hedda Lettuce and many more.
ROBIN BYRD PART OF FUSE PRINT AD CAMPAIGN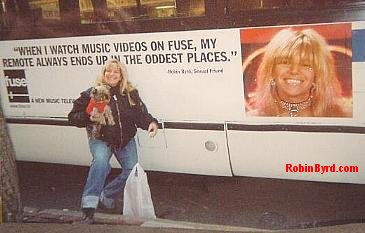 In November 2003 Robin - no stranger to breaking with tradition and the unexpected - became part of an irreverant image campaign launched by Fuse, the nation's only all-music, viewer-driven network.
New Yorkers and especially "Byrd Watchers" of the "Robin Byrd Show" can see the ad on city buses and print media. Robin is one of four personalities chosen by Fuse for this campaign. The others are evangelist Tammy Faye, hair-replacement specialist Sy Sperling and TV psychic Miss Cleo.
ROBIN IN NEXT MAGAZINE'S 2004 SWIMSUIT ISSUE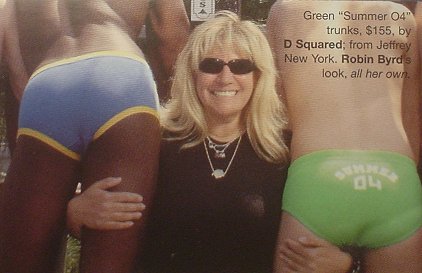 If a gay magazine is on Fire Island in early Spring to take pics for their swimsuit issue, you can bet that they will come across Robin Byrd as an "early Byrd" to open her house and plant some flowers for the coming summer season. And what more natural pose could their be for our Robin than one where she's in the middle of hunky boys.
ROBIN, OM AND CINDY ADAMS OPEN JAZZY JR. AT SAKS